Intro
After long 3,5 years of Covid-19 and Japan travel ban (no foreign visitor were allowed to enter Japan) finally a possibility came up for me to travel again to the country of rising sun in February 2023. Main reason for this travel was to meet up with my main suppliers and talk about the market situation. Also was this travel a kind of self reward for the best business result ever in 2022. And this would not have been possible without you! Thank you for supporting me! I always try to offer a comprehensive portfolio of products, which not only make you faster, but may also provide more efficiency or more effectiveness when spending time with your RC hobby.
In general, before I leave for such overseas travel, I try to adopt to the timezone of the destination (not fully – but a little bit), which is +8h to the one in Germany (CET = GMT+1). So about 1 week before departure I was getting up one hour earlier and from that day approx. 0.5 hour earlier every day.
Here is my report of the travel, instead of a video (as for the last visit in 2019).
Day 1 (Departure):
On the day of departure my alarm was ringing at 03:00, which let me comfortably make ready and also do some last work on pending orders before I needed to leave. Yes, it is a bit of a hudle not being able to dispatch orders for 4 days in a row, but the main intention is more important to me. In this sense I already apologize for any inconvenience, that may resulted due to that delay (in Japan we say "sumimasen"). My neighbor and good friend gave me a lift to the Frankfurt/Main airport quote early in the morning. Why that early, as my scheduled departure time was at 13:30?
Everybody has his own dreams and expectations. One of my dreams was to fly to Japan in Lufthansas First Class (F) at any time soon. However, I clearly have to admit, that any travel class above business class (C) is above, what you "need" to arrive in a way, that you can start working right away. In that meaning it was not neccecarily the space or food service, what was making my heat beat faster. It was the ability to start my flight experience in the iconic Lufthansa First Class Terminal (FCT), which is a dedicated lounge and terminal only for F passengers and also for HONs (it's the ultimate Lufthansa tier level in their loyalty program). It is located right next to Frankfurt Terminal 1, which I already knew from my previous business and private travels. How could I stand for this ultra-luxurious travel? Due to the fact, that I collected some amount of Miles over the years, I could spend them with this opportunity, which in the end left me paying just the taxes.
After arriving in the FCT the first thing which was asked is to leave my checkin baggage right where I got off my neighbors car. Two clerks took my baggage and applied the tags. After I have entered the FCT I was accompanied by a very kind lady, which guided me through the FCT own security check. After this last "hurdle" was taken I was warmly welcomed by the number of employees there. To be honest, I was quite impressed about the number of personnel. At least 5 personal assistants were floating around the lounge area and approximately the same number for food and beverage.
The lounge itself is calmly designed in a architectual way, that I am loving. Clean, straight, warm and functional. I was taking place in the cosy lounge chairs right next to the taxi stand, where I could watch the vibrant early morning movement of all the yellow cabs. I got a very nice breakfast in the FCTs own restaurant and afterwards relocated again into the lounge chair, which was also moving gently. With some lounge music by "The Ambientalist" I was maximum relaxed and was anthicipating my individually planned steps in Japan. Very special about this lounge is, that the service could see, that you might have a request, so they approached you in a very nice way. After 2 bottles of water, 3 large teas and one antialc Ipanema I was asked to follow my personal assistant to approach the limousine service area. But before sitting down in a VW T6.1 (executive line) my passport was checked by the FCTs own passport control, which was driven by the german authorities. My assistant was telling me, that in general on flights to Japan all premium classes are usually fully booked. So was also the F-Class – which wasn't any issue, as my seat was 1K (right side) directly in the front noise. Due to the curvature of the cabin in the front nose its the only passenger seat (to my knowledge), where you can almost look straight. Our aircraft was the D-ABYH (Yankee Hotel Boeing 747-8i), which was led by Capitain Waldenberg.
Still with a very high heartbeat I stowed away my carry on baggage and took a seat in the wide lie-flat seat, which is designed by Poltrona Frau (Italian seat maker). Same as the current C seat from Lufthansa also the F seat gently changes its position (slightly) from time to time when being in lie-flat state. This allows your body to change its static position slightly, which in my opinion is a nice feature!
Needless to say, that after the Thiénot Champagne welcome drink the cabin was prepared for "in-flight". I was positively surprised, that the capitain was coming "down" to the F cabin to welcome very passenger with some small talk individually. With 8 fully occupied seats he took his time with every passenger to explain the todays flight route and replied to my questions. E.g. we were -25 tons below the MTOW (maximum take off weight) – which is an essential number to calculate the V_1 and V_rotate, when taking off.
Perfectly on time we got pushed back and lifted off into the sky. The seat itself is stunningly designed with stiched (nappa?) leather everywhere around you (except the main seat, which is a nice textile material). Loads of different starters were served alongside the iconic LH caviar service, which I enjoyed with the garlic bread and eggs/cream cheese. Main course and dessert (cheese!) followed.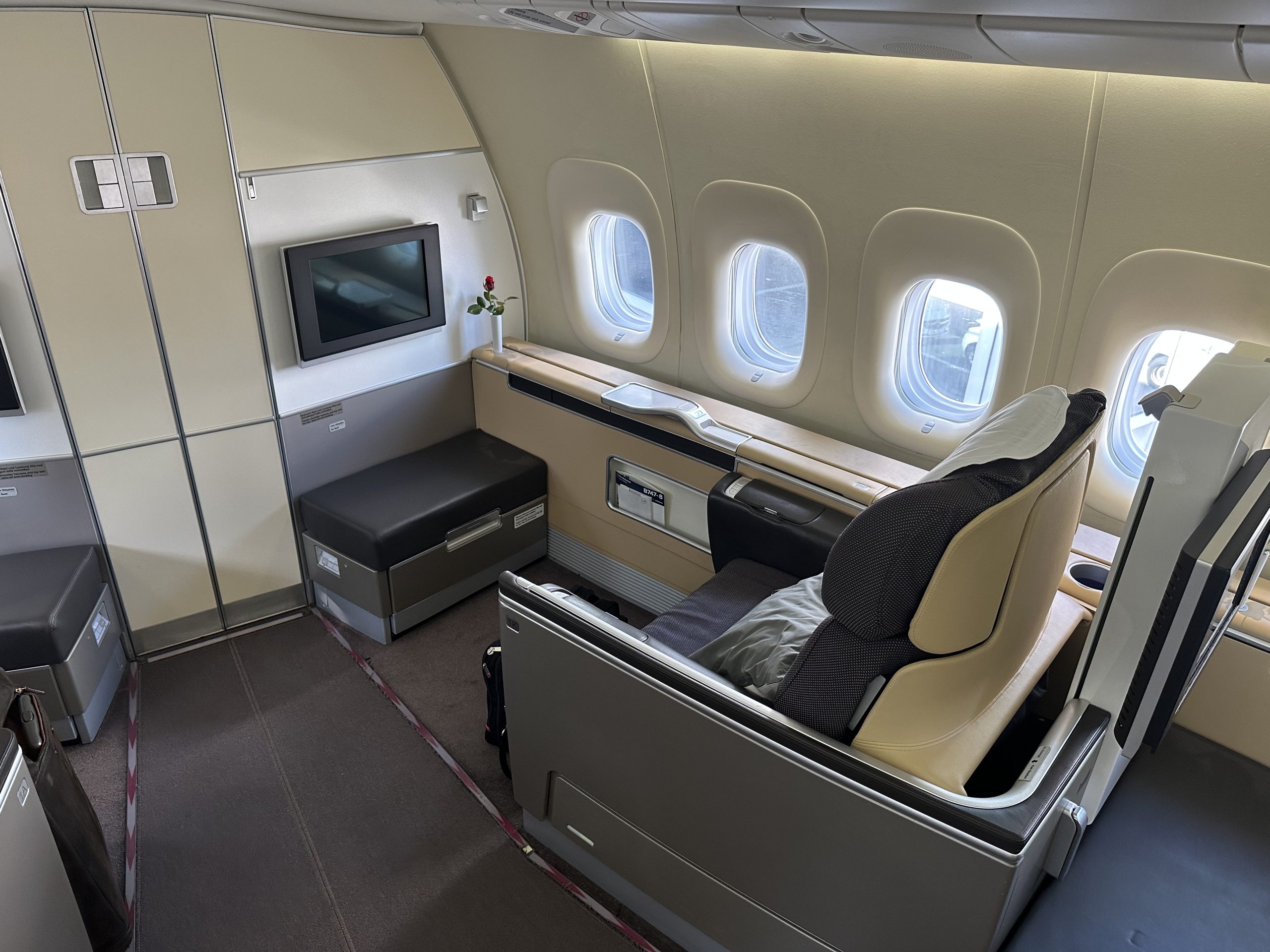 Day 2 (Arrival):
I spend the 12.5 hour flight with a lot of joy. The food was quite good, but I need to admit, that the taste in the sky is less intense, while the wines were pretty much on point. No worries, I was asking only for a little nip of each wine to get an impression about the broad selection of F beverages. The rest of the time, I kept myself hydrated with water and tea.
Finally it was time to land in Haneda. After getting out of the plane I was guided to the immigration and customs inspection, which could be prepared upfront online. This is fairly new, as the years before you always had to fill out papers during the flight.
The baggage was already on the belt when I arrived at the claim area. So I could directly head to the train station and proceed to Asakusa area, where my hotel for the first overnight stay was located. The first thing, what I did on japanese ground: take a ramen soup, which was a blast (had no japanese ramen since 3,5 years!). Afterwards I checked in at the hotel. The room wasn't really big, but to be honest, it was enough spacey for me, so no problem (also not with the amount of luggage)! As I was pretty tired I took a short nap and in the evening headed off for a joint dinner with Square in the Sumida area. It was a nice traditional Izakaya, where classical dishes alongside the vast variation of japanese drinking options were served. I love it to enjoy all the japanese directions of taste. Most of these directions were "amai" (sweet) and "sui" (vinegar). Besides the meaty options this dinner was definitely a healthy one ;-).
With loads of new updates around the JRM (japanese radicon market = wich means japanese RC market) my mind was occupied quite a lot so it was not easy for me to sleep directly. Somehow I try to build my own "big picture" from all the inputs to get my conclusions more on point for my purpose.
Day 3 (First full day in Tokyo).
On the second day in Japan I had the main meeting with Square the full morning meeting until 15:00. We discussed strategic points, product news, future releases and also about any opportunity for improvement. It is always difficult to improve something, what is already working well, as my business relationship with Square turns 14 years in 2023.
After our meeting I met up with my father, brother and my brothers friends from all over the world, as on Friday we will be celebrating my brothers bacherlor party. My brothers friends were doing a Japan tour for the last couple of days, so the last days they are staying also in Tokyo.
Next hotel was also approached, which will also the hotel until the end of my trip. Joint dinner at another Izakaya releaved another marvellous tastes.
Day 4 (Trip to Nikko)
On that day we headed off quite early to the area of Nikko by Shinkansen (japanese bullet train) via Utsunomiya. There we did some hiking to the shrine, where the "three wise monkeys" were engraved on the wooden walls of one buliding. It can be understood, that this was the origin of the emojis: 🙈🙉🙊. For japanese people it has of course a deeper meaning: We do not see/hear/say something, what can be understood as silence in a way, that some people can be selective. Sometimes you say more by not saying anything!
After having climbed to the top of the shrine with some steps up, we enjoyed the cloudy outlook and went down again for some "soba" lunch, which meant noodles in differernt ways (with soup or with tempura – battered vegetables).
On the evening by brother was booked as DJ in the Sankey Penthouse Club in Shibuya on 11th floor, where we joined the party. The cIub itself was designed like a pretty decent loft with 2 floors and also 2 bars. I have never been to such a small gig, which almost could be a birthday party from the number of guests (maybe 60 in total?). Musicwise it was EDM and we drank & danced a lot! There was also food served by a lady, who cooked and prepared all dishes on a small table by herself (most of the food was most probably prepared at home). I have also met a lot of friends from my brother. It was nice to see, how connected he is over the world. And we had some very good chats about family, data science and live in Japan.
After almost arrived at the hotel we went for a "hangover" ramen close to the hotel. I don't need to mention, it was awesome!
Day 5 (The day of bacherlor party and also last day for many from us in Tokyo)
In the morning we left all together to a nearby Soba Restaurant, which is serving soba 24h a day (amazing!). With 400 Yen this meal was one of the cheapest I had in Japan – but it didn't make it bad!
I still had some gifts to buy, so I headed off after breakfast soup for Ginza / Shinjuku where I found everything, what I as looking for. For lunch I met up with my father, by brother and my brother in law for a nice Shabu-Shabu. Thin sliced cuts of meat, vegetables, tofu and rice noodles are floated though boiling water, so everything stays juicy.
Next up we went all together to Shimbashi Plamodel Factory, which is conducted by Tamiya. On 3 floors you can get a nice overview about all Tamiya products (mainly plastic models, Mini 4WD, RC and modelling accessories). On 3rd floor they have a big Mini 4WD race track, where you can try different setups. Unfortunately this product category is not available in Germany.
Afterwards we rushed to the hotel to get a "4.5t boosted modified" (very quick!) nap before getting ready for my brothers bachelor party. What happened there, says, where it happened 😉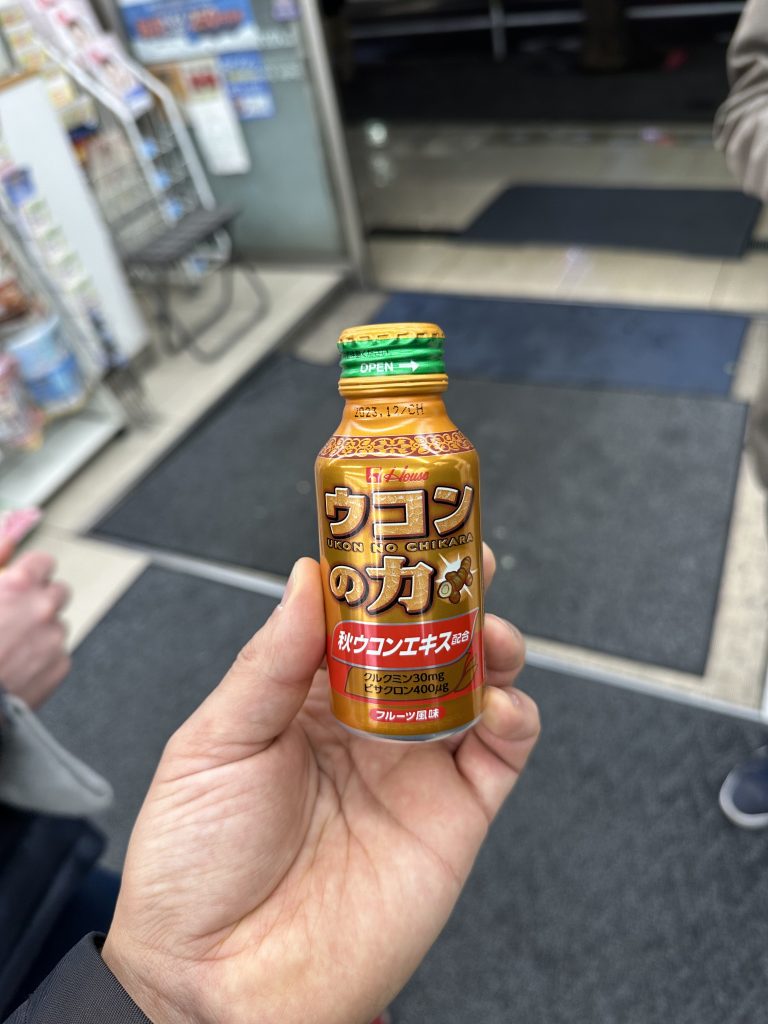 Day 6 (Return day)
I headed off to the airport, which was reacheable quite convenient from the hotel, where we stayed. So I made it on time and was curious about the F ground expecience in Haneda (HND). Of course my expectation was not that high, as it was at the departure in FRA, as Haneda has no dedicated terminal for their F guests. But the so called ANA suite lounge was also nice, as the food service was remarkeably better than in the C-lounge (grilled yellowtail tuna menu for breakfast and a sushi set for lunch is almost everything, what I expect from such a lounge). The lounge area itself was divided in open seat area, which still was seperated by glass and walls, so it wasn't too loud there. I rested in one of the "closed" suites, which is a kind of pod-like cabin with a cozy couch and a moveable table. There is no dedicated person, that will remind you of going to the gate on time, so you need to take care about that by yourself. The departure gate was not far away from the lounge, so that was ok.
Boarding was that efficient, that we could depart 10 min before schedule. Today it was the Yankee Golf bringing me back to FRA. After takeoff it was clear, that we will take the route almost "over" the northpole, which was longer, but quicker due to strong tailwind. The lunch served after takeoff was definitely better than on the way to Tokyo. Compliments to the japanese catering company, who did very well (coincidence?).
Finally a long awaited and strongly desired travel has come to an end. I am fully satisfied with the outcome, but need to catch up a lot of topics, which had been paused during my week of absence.
Thank you for reading this report!
Yours sincerely,
Dai Sakaguchi