The new day has started foggy and wet, as it was raining pretty heavily during the end of yesterday.
My main aim is to repeat one more result as Q3. Time will tell, if I can keep my nerves together in order to finish another clean run. I have made some setup changes to my car to make the rear a bit more stable (more droop rear + more ride height).
Regarding the event I need to say, that the sportiness is pretty much state of the art. Its a fair competition thoughout all classes. The venue is pretty good, as it offers a relaxing area (with beds and wifi), Kitchen with a stone oven (Pizza – yummi) and a well organized technical inspection, where you can come in 2 heats before your heat to put the tires on, go through tech and finally apply the tire additive. No heaters can be used. But there is also a dark side on this event: I also share the opinion, that the event is way below the standard, what we know from IFMAR world championships in terms of rules and communication of them. We are already braking a lot of existing rules which is contradictous to the values of IFMAR (and EFRA). E.g. track layout in order to make the chances more even for all participants. There are also no comments during the race (race order, best laps etc. – just nothing!). The strategy of timeplan is very weird and causing delays. But I don't want to sound too negative. All in all its a good WC and the winner finally will be crowned because he will be the best out of all – and this matters!
Now we head off to the track to see, what is possible for Tim and me! #trfworkz
After 2 rounds of practise the track is still very slippery. But its getting better from hour to hour. Now Q5 will begin. Afterwards Q4 will be repeated (yesterday not same conditions for everyone) and finally we will head of for Q6.
Q5 was not my run! Too many mistakes and too much of push:
Anyways… heads up… looking forward for repetition of Q4 and then Q6 (both on new tires).
Q4 (repetition): Biggest mistake in my RC life… I thought I finished my run (sucessfully) … but the line was 10m behind the spot I was sliding in the wall. After I picked up my car I realized… Ouch! There is no excuse for something like that!
Anyways… now Q6 will start… my last chance for D-Main.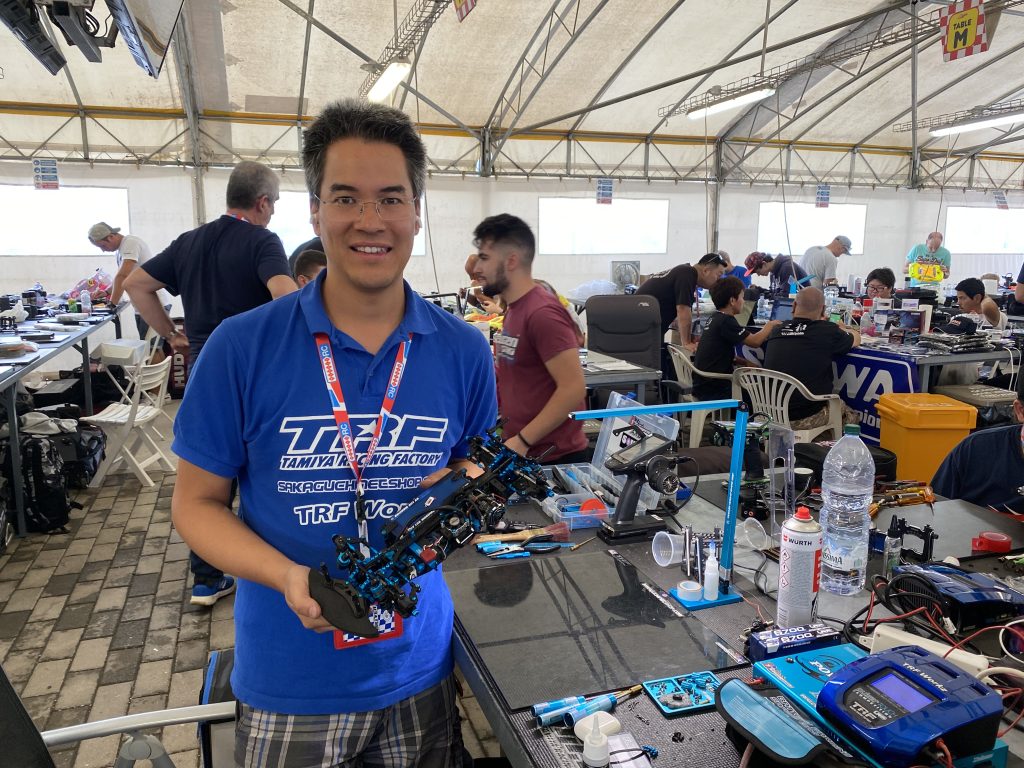 Q6 is in the books! E-Main for me with Starting spot P2. Disappointed on one hand… but happy to have saved the car over the whole weekend. I am only a driver, who races in his spare time. In that sense I can be happy to have P42 after all qualis.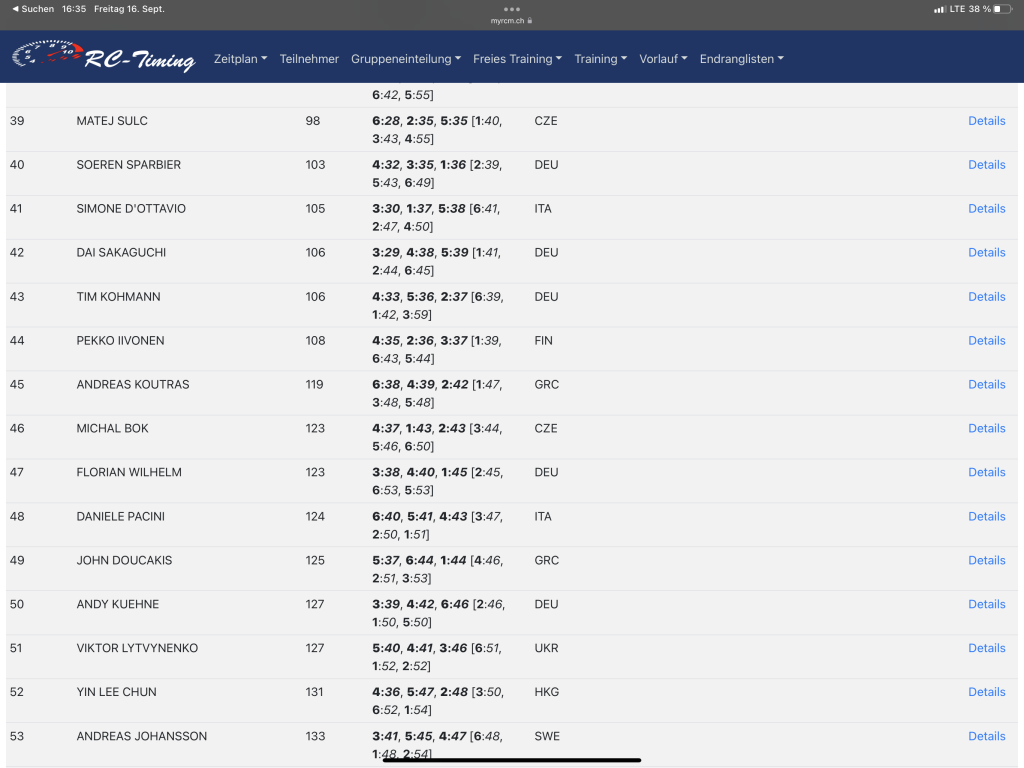 Now the orga is deciding, if we will have finals today, as we have rain forecasted for tomorrow.
Some more words regarding the result from Tim and me. Yes, it's not over yet, as the mains are still to run. But in the range of possibilities the maximum, which is now possible is P41 (if everything goes perfect). Tomorrow (Saturday) we will hopefully have the mains. I don't believe, they will be completely dry, but lets see tomorrow, as the weather forecast is pretty unreliable.
As most of the drivers are organized in a team consisting of several team members, we are consisting of 2 members (TRF workz). Also here I have to admit, that I have made some mistakes by e.g. not taking any spare motors with me, while they are sitting on the shelf at home. As both Tim and me have to work during normal weekdays, we cannot participate in too much training events. But taking everything into account, I am more than proud, that both of us have reached this result so far. Tomorrow there will be more news from the finals!